This morning I stumbled onto this lovely piece published by Brevity on January 20, 2014, by a nonfiction writer named A. Papatya Bucak. She teaches in the MFA program at Florida Atlantic University. Though I'm not a teacher, much of what she wrote resonated. At times, she even seemed to be speaking my heart.
Her essay struck me as a poem in hiding. So, with apologies to Ms. Bucak, and with deep appreciation for her original work, I offer as a found poem this rendering of her words. I deleted little of the original text, edited only lightly, and rearranged only a few of the lines. (The photograph, by Liz Wuerffel, was included in the Brevity piece at a much larger size.)
Bucak's prose has been included in a variety of magazines, including Creative Nonfiction and The Normal School, and her short fiction has been selected for the O. Henry Prize Stories and Pushcart Prize anthologies.
An Address to My Fellow Faculty
Who Have Asked Me to Speak About My Work
My work is to write this sentence & revise it into that sentence.
To take this word & replace it with that word.
To find the right word even though there is no right word.
To write a novel from five to seven a.m. for
two years that will never be published.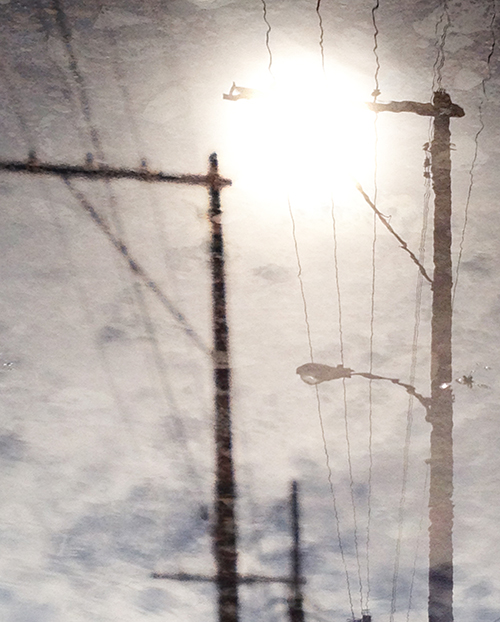 My work is to be the one you trust to tell
the truth, even though I am a known liar.
To see who you are & who I think you could become.
The shadows cast by your secrets.
My work is to notice the slate grey night lit
by a full moon half behind a cloud. An ant
drowned in a single drop of water
in my sink. The bird of dawn. The thief of love.
The city of beauties. The nest of snakes.
The juice of a single grape.
My work is to know what it is to want more
than someone is willing to give.
To explain my heart even though I cannot.
My work is to remember I always wanted to be a writer
& one day my father turned to a friend
& said, "This is my daughter, she is trying
to be a writer." Then, "She is
a writer."
My work is to stop
when a student—right in front of me—
writes, "I think I would be a better
dancer if only I had wings."
My work is to believe in grace. To realize all my greatest fears
will come true. My father will die, my mother,
my brother, my niece, my nephew,
me.
My work is to pay attention when my mother says, "I cried
all of my tears that first year I lived in Turkey," says
of her freshman roommate, "It was like Tigger rooming with Owl,"
when my father says, "You should sit by my side & write
down everything I say like the Prophet," says, "Chickens
are braver than us," when my nephew says to his sister,
"All of your teeth are sweet teeth," says to me, "I'd like to see
how long you'd last in Azkaban without a book."
My work is to tell you without art
we would be in a world without art.
To imagine a world without art
so there is never a world without art.
My work is to believe in everybody's capacity
for kindness, everybody's capacity
for cruelty.
My work is to tell you this: I was on the subway, & we stopped
between stations, & the staticky voice came on the speaker
& said there would be a delay of twenty minutes, & cursing ripped
through the car, as if a tribe of the mad had just swept in. Then
a young woman took out a small pile of paper, started folding
red origami swans, handed each she finished to one of
us.
My work is my origami swans.